Protests erupt from New York to California after Rittenhouse acquitted on all charges
Demonstrators took to the streets from coast to coast after a jury found Kyle Rittenhouse not guilty on all five counts.
Covered By: Fox News, Greg Norman , Edmund DeMarche, Lisa Bennatan, Stephanie Pagones, Audrey Conklin, Adam Sabes and Brie Stimson
Portland police make 1 arrest after Friday night protest declared riot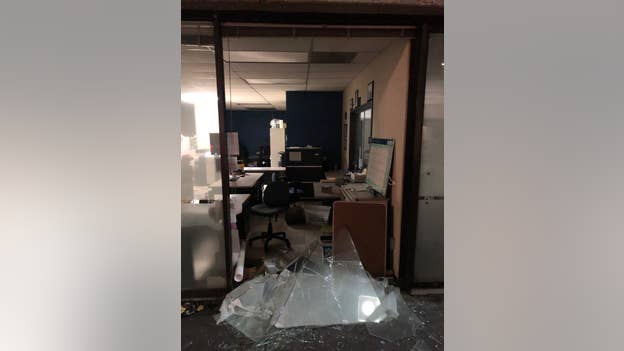 Rioters smashed a Portland print shop's windows. (Credit: Portland Police Bureau)
Portland police made one arrest and issued five citations and 17 warnings Friday evening during a protest that escalated into a riot following Kyle Rittenhouse's acquittal.
"The destructive crowd has dissipated and officers are returning to their precincts to resume their duties," the Portland Police Bureau's said in a Saturday morning tweet. "At least one arrest has been made."
Rioters smashed the window of a city print shop, the near window of a police vehicle and vandalized the Bureau's precinct downtown.
For an aggregation of various stories from around the country, see this page on Fox News.
(0)
0
0
To Country: United States
From: 92570
User Alias: PostalBee
Posted On: 11/20/2021 5:35:44 AM
Expiration On: 12/20/2021 5:35:44 AM
Last Modified On: 11/20/2021 5:35:44 AM
Category: National News