Trump Jr. says he'd back a new conservative social media...
By Mike Allen
1 Big Thing ... Trump's new fake news: fake social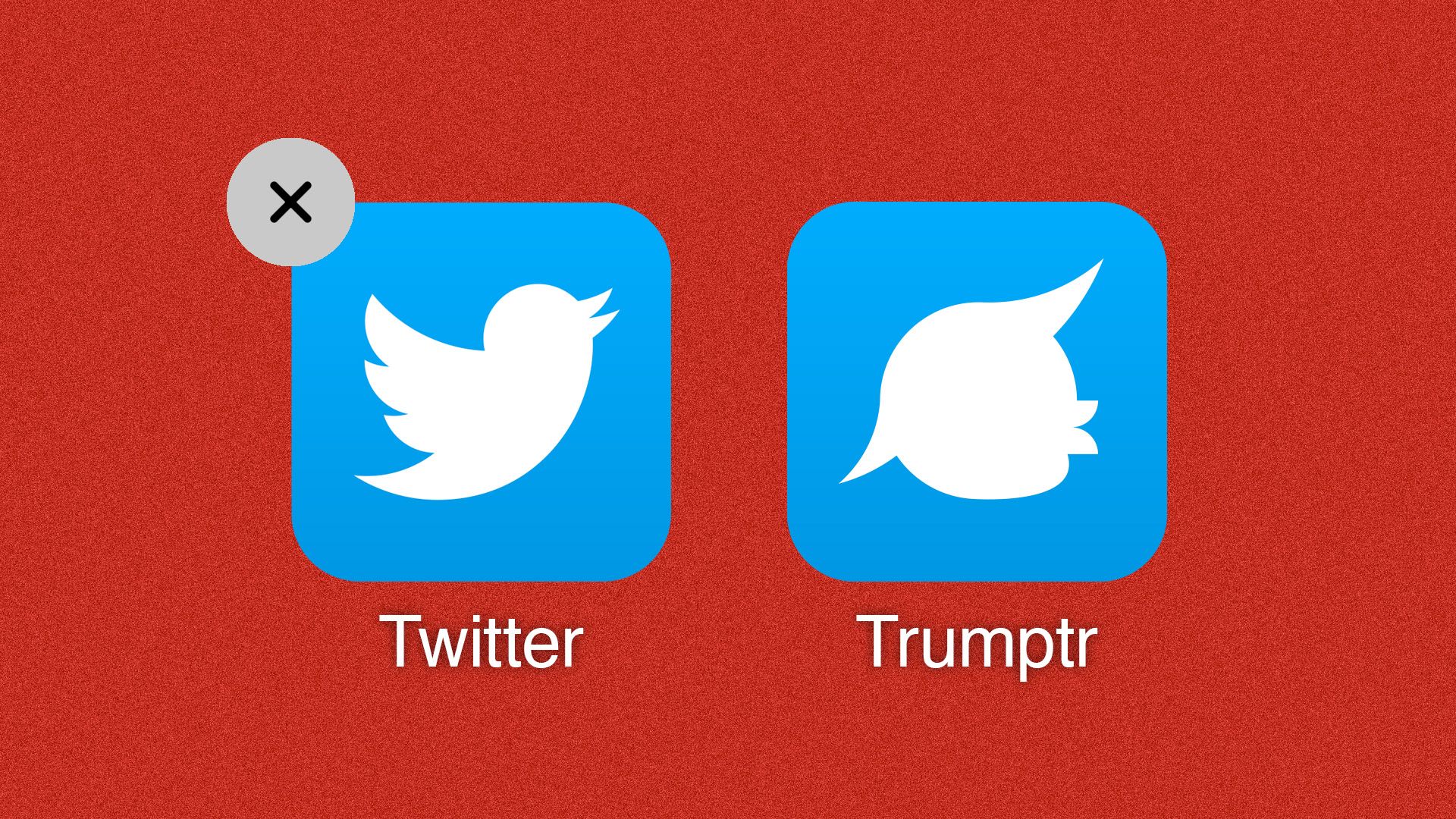 Illustration: Lazaro Gamio/Axios
President Trump, using more anecdote than evidence, is doing unto Google, Facebook and Twitter what he helped do to mainstream media: persuade a big chunk of America they are biased — and fake.
What's new:

"Fake social" and "fake search" are the new "fake news" in the mind of Trump's inner circle.

A new poll

by Media Research Center/McLaughlin & Associates, reported first by Axios, showed the attacks are working: 65% of self-described conservatives believe that social media companies purposely censor the right.
A Trump operative tells me: "It's risen to the level of being an emotional or gut issue with conservatives, like guns/immigration. It's an issue that's here to stay."
Be smart:

Conservatives charged bias and lies in mainstream news and then created right-wing alternatives. It should come as no surprise if they do the same two-step process to the modern form of distributing that news.
Donald Trump Jr., who has 3 million Twitter followers and 1.3 million Instagram followers, told me there is "exactly zero doubt in my mind" that tech bias is real: "I don't think [this issue] is going away, because I don't think it's changing."
The president's oldest son,

reflecting Trumpworld's growing appetite for action against Big Tech, said the companies need to self-regulate better: "Many of these platforms get many benefits from the government."
🚨 Don Jr. tells Axios that if a Trump supporter in the tech world created a conservative, Facebook-like social network, he would urge Trump supporters to switch to it.
When I asked

him if his father's 2020 campaign might build such a platform, Don Jr. said: "I'd love to do it. But what I would prefer is,

take one of the two Silicon Valley conservatives and let them start it.

And then I'd help promote the platform and be all over that."

Scary thought:

Imagine tribal news delivered via tribal pipes. And, as one mischievous Trump adviser told us, imagine the president moving his Twitter show to that network.
House Majority Leader Kevin McCarthy (R-Calif.), the likely Speaker if the GOP keeps the House, has driven the tech-bias issue among conservatives for months, and pushed a #StopTheBias hashtag that the president tweeted yesterday.
McCarthy told me:

"The companies cannot sit back and say nothing is happening. Algorithms are written by people. Everybody has some bias in them. Anyone claims they don't have bias, they're not human."
Why it matters: Top Republicans tell us this will be a major line of escalated attack at a congressional hearing next week with Facebook COO Sheryl Sandberg and Twitter CEO Jack Dorsey.
Original story: https://www.axios.com/newsletters/axios-am-6b5b747e-4bab-4d9a-a6da-802524475400.html
(0)
2
0
To Zip:
From: 99791
User Alias: MZMPromoAdmin
Posted On: 9/22/2019 10:07:30 PM
Expiration On: 1/21/2025 5:05:12 PM
Last Modified On: 9/22/2019 10:07:30 PM
Category: National News